VOOPOO shining in the JohnCalliano Festival, Brought Visitors an Incredible Vaping and Music Feast
The JohnCalliano Festival Summer 2022 concluded on July 23, which attracted many brands participating and thousands of visitors enjoying the diverse vaping experience. As a well-known e-cigarette brand around the world, VOOPOO's debut in Russia undoubtedly brought visitors an impressive experience.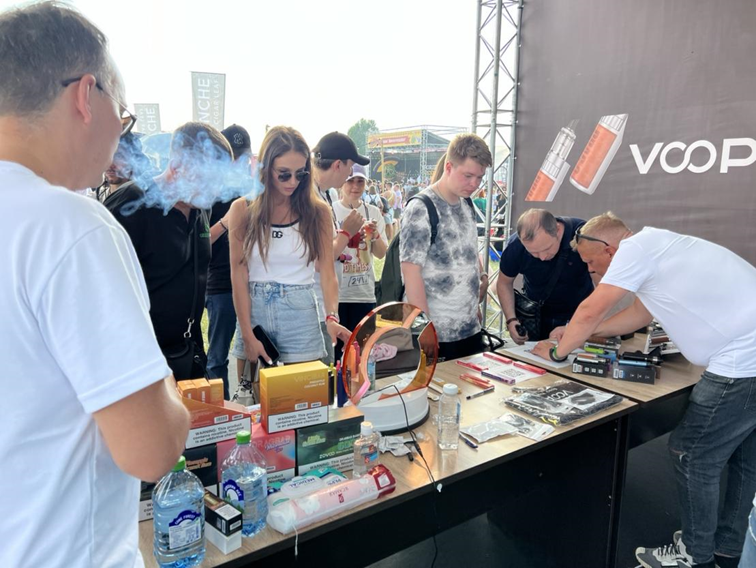 Music and vapor, an amazing collocation and fantastic experience
The Johncalliano Festival Summer is one of the largest vapers' festivals this summer. With the intoxicating music and cool vaping performances, smoke lovers had a very special time with VOOPOO.
In this event, VOOPOO took star product ARGUS GT 2 and the newly launched VMATE E and VMATE Infinity Edition to the site. Besides, VOOPOO DRAG NANO2, DRAG Q, and ARGUS POD are also displayed on the site. The event lasted from 12 a.m. to 11 p.m., attendees from Russia and other surrounding areas who love music and vaping enjoyed a wonderful day!
Solid as Argus, endless innovation as infinity
Argus GT 2 is a solid tri-proof mod products, whose attention and praises have been kept high since it tapped in the market. It always gives the users loyal accompany in daily life and extreme situations. Two new pod products, VMATE E and VMATE Infinity Edition bring pure tastes with the 5A Freshness-Seal Cartridge and ultimate vaping experience with ITO atomization platform.
The debut in Russia, a big step in internationalization process
Beside the products playing, VOOPOO also provided consultation service and interactive games for the visitors, which are so attractive that there was a long line.
As a brand with great ambition, VOOPOO endlessly pursues the market expansion. Aiming at providing the advanced vaping experience to every vapor, VOOPOO not only persistently innovates the products and technologies, but also upgrade the product and branding promotion. We believe that we will provide more innovative products and better brand image for vapers worldwide!