WARNING: This product contains nicotine. Nicotine is an addictive chemical.
The above warning applies when the product is used with nicotine-containing e-liquids
Brand New Craftsmanship
Equipped with non-fading & scratch-proof
platinum shell, it becomes more exquisite and
comprehensively exceeding.
FIT more than you have ever expected
A new generation of drag. It is more than higher output and better using
experience. DRAG 2 Platinum, is here to FIT your hand, your atomizer,
your vaping life.
FIT your security - Innovative GENE.FIT chip inside
15Months Spent in R&D
1100Data Mining of GENE Chips
161Tanks Tested
Apart from the innovation in its brain, GENE.FIT chip is secured by a V0 class fireproofing bridge to block dust, liquid or burnout.
Introducing FIT
Our vision has always been to create the device that is of high performance, long
endurance and best protection for vapors. FIT is a mode that can protect tanks to
the most with its intelligent matches of FIT 1/2/3.
FIT 1: Cloud set
Features of FIT
Protect sub-ohm tanks from burnout (*Under normal and right operating conditions) Intelligent
matches with tanks
*UFORCE tanks recommended for FIT mode. It does not apply to RDA, RTA or RDTA.
FIT your taste
Specular finishing + multiple resin plates
DRAG 2 Platinum is employed with solid specular finishing, with
multiple new resin plates.
Platinum-
Fire Cloud

Platinum-
Myst

Platinum-
The Flame

Platinum-
Scarlet

Platinum-
Aurora

Platinum-
Jigsaw Puzzle

Platinum-
Dawn

Platinum-
Dark Color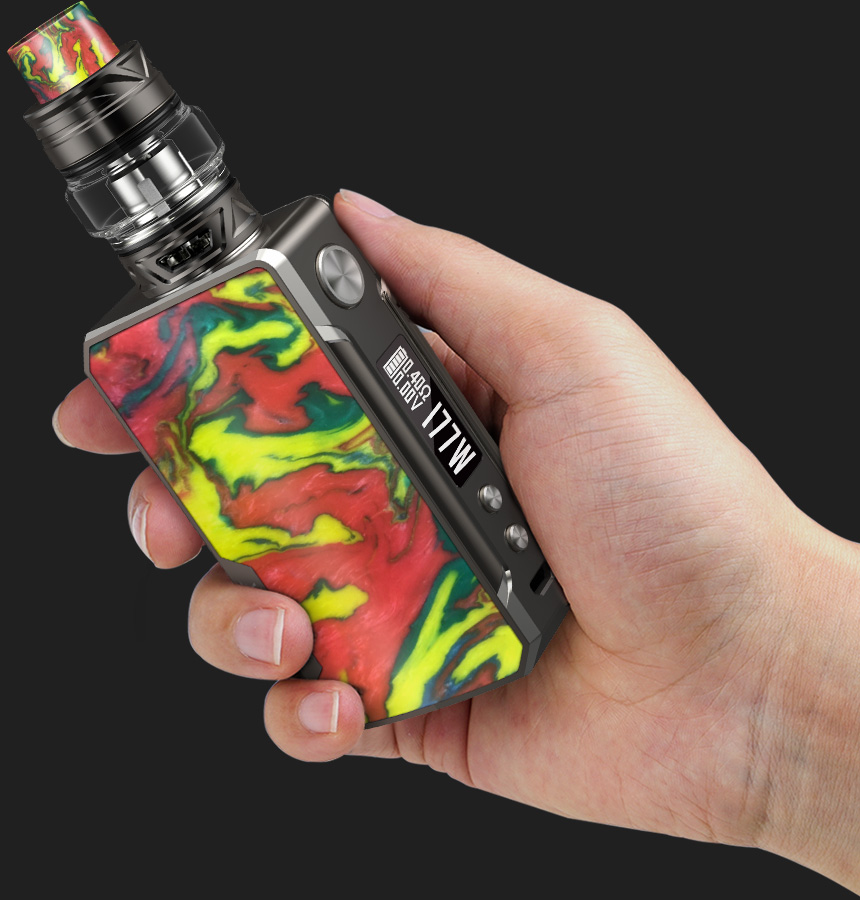 FIT in travels
1/4 lighter than DRAG
DRAG (mod): 203g (without battery)
DRAG 2 Platinum(mod): 158g (without battery)
Following the same design and solid quality of
DRAG, DRAG 2 Platinum mod is slimmer and 1/4
lighter than its predecessor, making it more
friendly for everyday use. The biggest optimization
of this mod, comes internally.
FIT your needs - New UFORCE T2 tank matched
UFORCE U2
Dual coils
Strong flavor structure
Resistance: 0.4Ω
Power: 40-80W
Best: 55-65W
UFORCE N3
Triple mesh coils
High acceleration power
Always keep the full and original flavor
Resistance: 0.2Ω
Power: 65-100W
Best: 75-85W
UFORCE N3 with triple mesh coils
With exotic appearance and exquisite structure, the idea of UFORCE T2 comes from the
mechanical design of the TRANSFORMER. DRAG 2 Platinum kit will keep the original
flavor with U2 and N3 coils.
FIT 177W output
From 157W to 177W, it is never the highest
number that accounts
With the FIT mode of DRAG 2
177W allows vapors to explore more than the
20W increase
Core description
Compatible with all UFORCE coils
*P2 is not compatible with TPD version of UFORCE T2.
The tank is compatible with all of the glass tubes(2ml/3.5ml/5ml/5.5ml/8ml).
90mm

DRAG

Dimensions: 90*54*24mm

Weight: 204(±2)g

Battery: 2*18650

Max Range: 157W

88.3mm

DRAG 2
Platinum

Dimensions: 88.3*51*26.5mm

Weight: 158(±2)g

Battery: 2*18650

Max Range: 177W

81.5mm

DRAG mini
Platinum

Dimensions: 81.5*48.5*25.5mm

Weight: 178(±2)g

Battery: 4400mAh (Built-in Battery)

Max Range: 117W
Eight security protections
Battery Reverse Protection

With battery reverse protection, the mod will be
protected from breakdown.

Switch Timeout Protection

Intelligent overtime protection will avoid
atomizer's coil and cotton burning.

Over-temperature Protection

TC mode assures the mod and battery work
properly within safe temperature range.

Output Over-current Protection

To Intelligently detect output current, and close the
output current when the current exceeds the
highest limit.

Overcharge Protection

With dedicated lithium battery protection
components, the battery will be protected against
battery overcharge and damage.

Over discharge Protection

With dedicated lithium battery protection
components, the battery will be protected against
battery discharge and harm.

Short-circuit Protection

When the short-circuit is detected, the mod will
protect the battery by preventing the circuit
returning.

Support Balance charge with
different brand battery

With dedicated firmware to detect internal
resistance of battery, the battery will be
controlled in a steady balanced charging condition.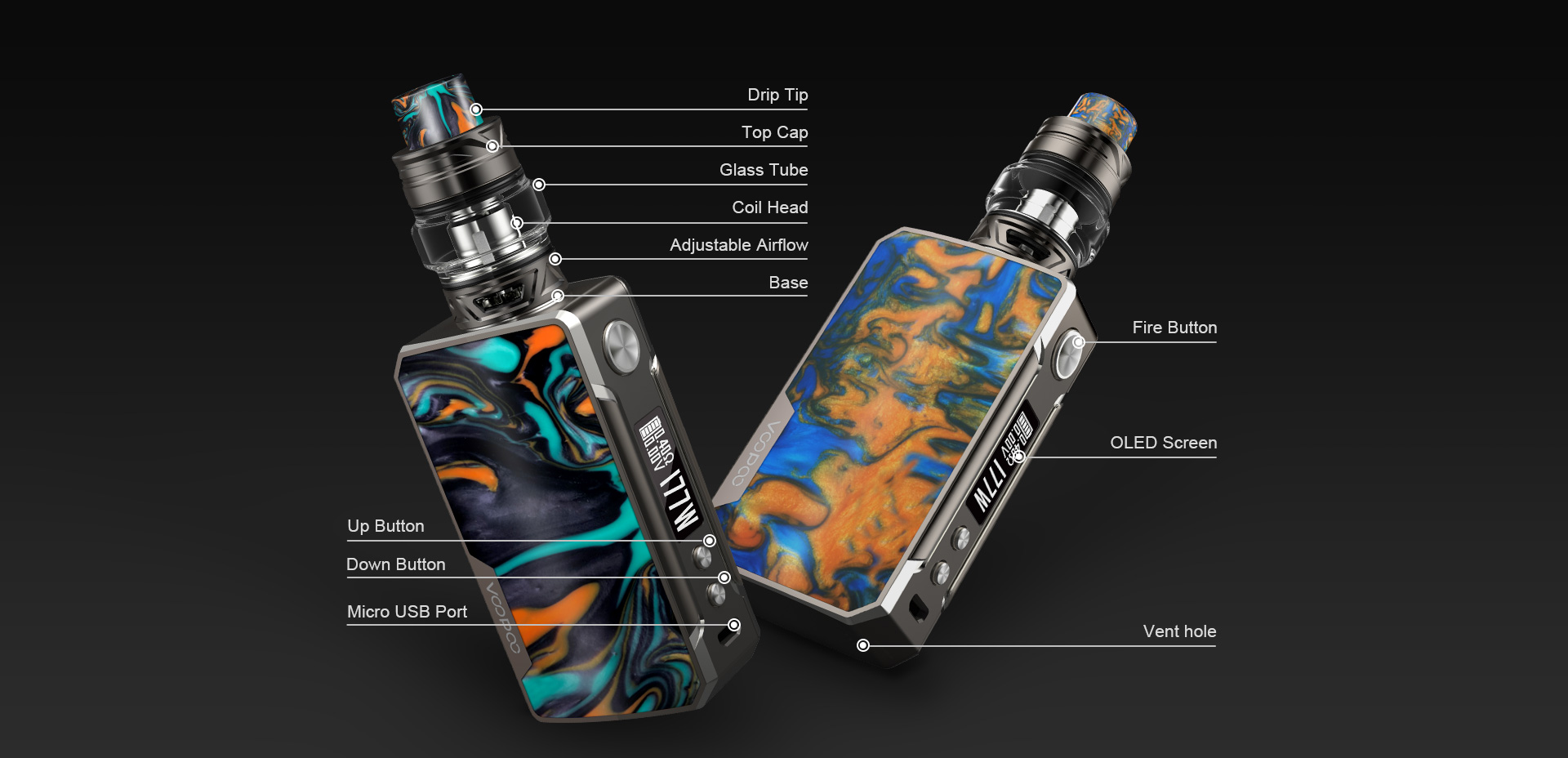 E-liquid filling steps
It can effectively prevent e-juice leakage by pushing the top cap and filling in e-liquid,
which is more convenient and clean
Hold the atomizer with your left hand push the top
cap with your right hand and move it
Add e-liquid through the slot,and pay attention
to check how much oil is filled in the tank
(suggest not lower than the MIN line)
Gently push back the top cap,then let the atomizer
stands for 5 minutes to get the organic
cotton completely saturated
Specification

Name

Material

Power Range

Battery

Voltage Output

Current Output

Quiescent Current

Resistance Range

TC Range

Drag 2 Platinum Mod

Tungsten Alloy, Resin

5-177W

18650*2

0-7.5V

0-40A

<10uA

0.05-5.0Ω

200-600℉/100-315℃

Protection Functions

Vape Overtime Protection

Over Temperature Protection

Over Current Output Protection

Overcharge Protection

Over Discharge Protection

Tank Short-circuit Protection

Battery Reverse Protection

Support Balance Charge with Different Brand's Battery

Size of the Tank

Height

Diameter

Weight

Nearly 54.45mm (TPD: 49.95mm)

Nearly 28mm (TPD: 24.6mm)

About 59.2g (TPD: 59.1mm)

Size of the Mod

Length

Height

Width

Weight

Nearly 51mm

Nearly 88mm

Nearly 26.5mm

About 158g

Tank Parameters

Material

Capacity

Stainless Steel

5ml (TPD: 2ml)

Coil Settings

UFORCE U2 (Pre-install)

Type

Resistance

Power Range

Best Power Range

Dual Coil

0.4Ω

40-80W

55-65W

UFORCE N3

Type

Resistance

Power Range

Best Power Range

Triple Mesh

0.2Ω

65-100W

75-85W

Package List

Standard Version

Drag 2 Platinum Mod *1

UFORCE T2 Tank (5ml) *1

UFORCE U2 Coil (0.4Ω)*1

UFORCE N3 Coil (0.2Ω)*1

Glass Tube (3.5ml)*1

USB Cable *1

GENE Chip Card *1

User Manual *1

Warranty Card *1

TPD Version

Drag 2 Platinum Mod *1

UFORCE T2 Tank (2ml) *1

UFORCE U2 Coil (0.4Ω)*1

UFORCE N3 Coil (0.2Ω)*1

Glass Tube (2ml)*1

USB Cable *1

GENE Chip Card *1

User Manual *1

Warranty Card *1