WARNING: This product contains nicotine. Nicotine is an addictive chemical.
The above warning applies when the product is used with nicotine-containing e-liquids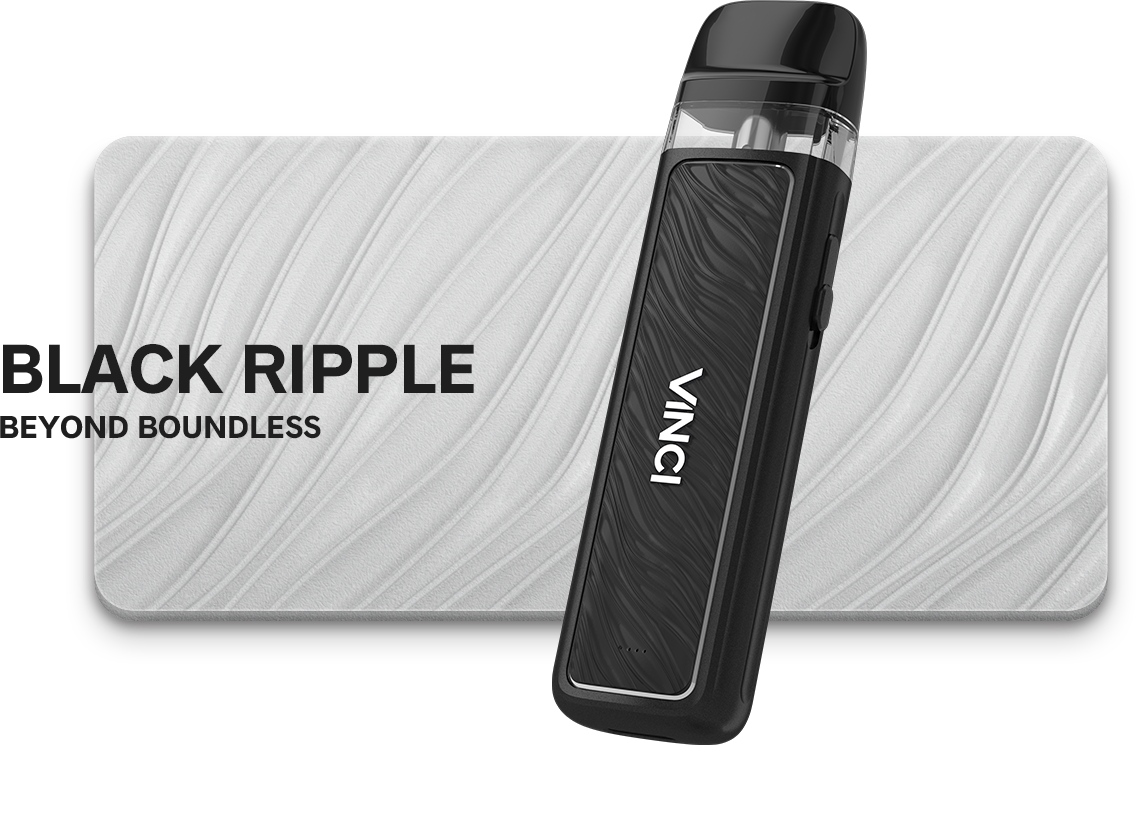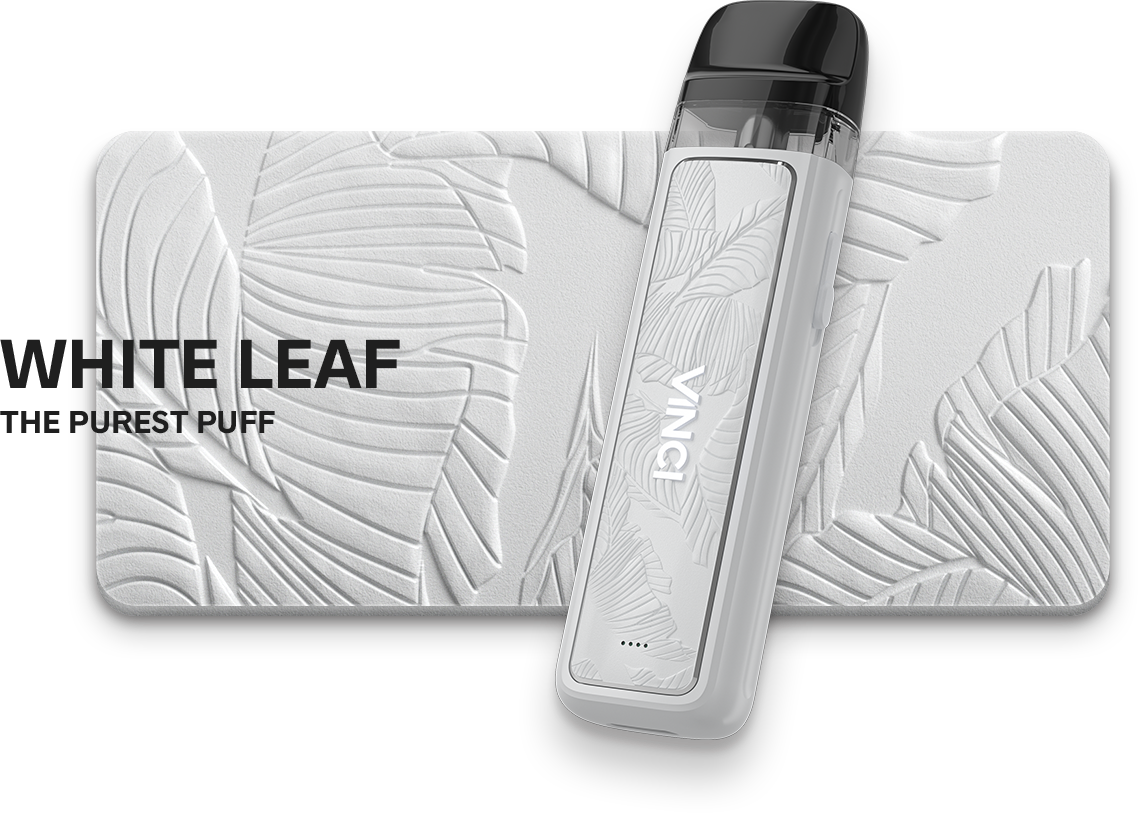 THE PINNACLE
OF UNIQUENESS
From a simple sketch to creating a unique work of art which is fully made on request, that's how the experience and
creation of VINCI POD Royal Edition can be summarized. Every single pattern is made by the skillful hands of our
master sculptors and experienced artisans, the unique models endlessly push the boundaries of excellence.
A REMARKABLE
ARTISTIC SIGNATURE
The creation of VINCI POD Royal Edition, or the art of playing with transparency and making light dance across
gleaming aluminium alloy to transform the airflow movement into an ethereal ballet, is an art long since mastered by the
VOOPOO R&D team. Only the association of several traditional fine relief crafts can give rise to such works of art.
HANDMADE ARTWORK
The spirit of persistence has been the soul of royal craftsmen since ancient times. With this spirit, after 8 months of 12
manufacturing process and 68 steps, the craftsmen of VOOPOO R&D team ultimately created each exquisite masterpiece.
12 MANUFACTURING PROCESSES
WITH 68 STEPS
With combination of excellence and exclusivity, VINCI POD Royal Edition is perfect in each detail. Every corner
and radian had been calculated and grinned for hundreds of times. The royal craftsmen spirit is reflected incisively
and vividly on VINCI POD Royal Edition.
Advanced Aviation
Aluminium Alloy
6061 Aluminium Alloy has been widely applied in aerospace, aircraft,
high speed trains, automobile and other industries for its excellent
strength and plasticity, brilliant fracture toughness and fatigue
resistance, outstanding stress corrosion resistance and exfoliation
corrosion properties, and that's why this professional material would be
adopted by VINCI POD Royal Edition, which is aimed to provide you
more advanced experience.
UNIQUE GRIP FEELING
Comfortable grip feeling of relief sculpture adds a touch of unforgettable
memory of VINCI POD Royal Edition. Holding it like holding a masterpiece
of art. It's easy for you to get luxury experience by touching the concave
and convex lines of the product.
VISIBLE
CARTRIDGE
Visible cartridge shows remaining e-juice level real-timely.
No worries about e-liquid being run out.
CONVENIENT
TOP FILL
You only need to remove the mouthpiece from the top, then
refill the e-liquid easily.
*Keep it rest for 5 minutes till the e-juice being fully soaked before use
UPGRADED
LEAK-RESISTANT
During puffing, the condensate will flow back to the interlayer on both
sides of the cartridge, which effectively improves the leakage-proof
function. The condensate will be sent back by the airflow and vaporized
again. No leaking fuss anymore.
TWO PODS
DOUBLE EXPERIENCE
VINCI POD Royal Edition is equipped with two pods of 0.8 Ω and 1.2 Ω,
which makes flavor in various layers from original
taste and nicotine experience.
POD FAMILY
VINCI POD Royal Edition is capable with cartridges below, including cartridges of
VINCI Q, DRAG NANO 2, VINCI POD. Multiple choices to get multiple experiences.
A BUTTON TO TRY
DIFFERENT FLAVORS
The airflow can be adjusted with button on the side of the device. Your can
find out your prefered airflow by adjusting the button.
3-COLOR
SMART LED LIGHTS
VINCI POD Royal Edition implants the LED onto its surface through
complex techniques. The light is on and off along with each puff. You
can see and feel the rhythm of puffing.
*Battery>60% -Green
*Battery 20-60%-Blue
*Battery <20%-Red
PACKAGE LIST (STANDARD)
PACKING LIST (TPD)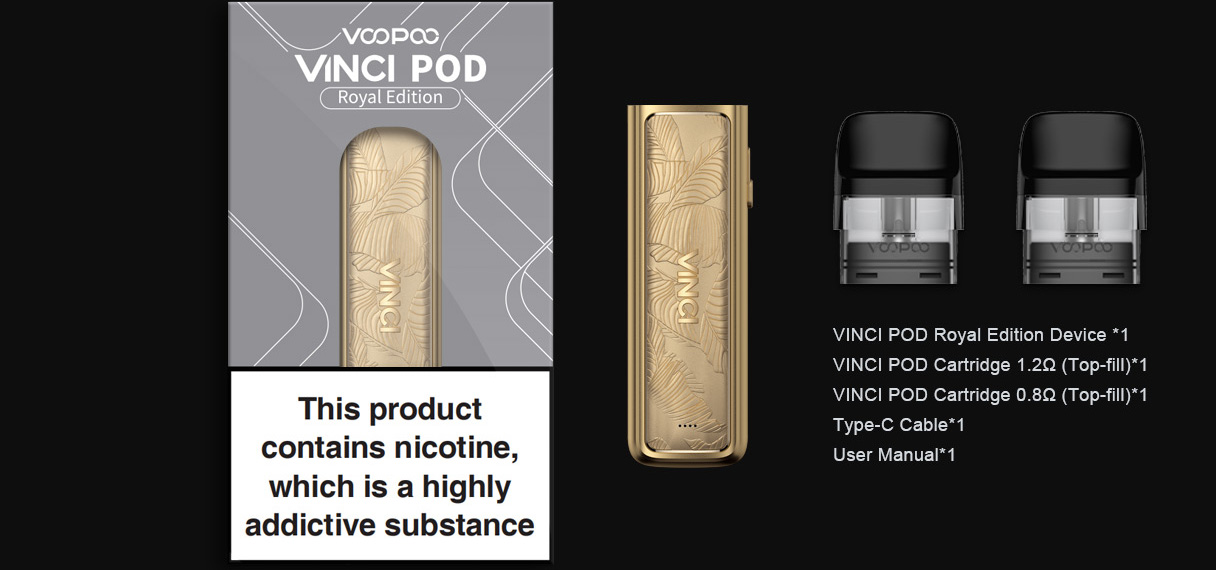 PACKING LIST (US)