WARNING: This product contains nicotine. Nicotine is an addictive chemical.
The above warning applies when the product is used with nicotine-containing e-liquids
Fully Rigged for Mind-blowing
Whether you are enjoying the pleasure of big cloud, or the convenience of small pod. Whether you are outdoor
sports or indoor office, this package offers the perfect solution.
The Powerful DRAG You Are Familiar with
With the advantages of metal and leather materials, fast ignition, and stable output, DRAG S & DRAG X is widely popular in the mod pod market.
Universal PnP Atomizer Platform
DRAG S & DRAG X general-purpose PnP magnetic atomizer and PnP series coil. This is a low-cost, highly versatile atomization system created by us.
Two Versions. You'll Love Them
The limited set is available in two versions, DRAG S and DRAG X, each in five colors.
5-80W
Single 18650 Battery
PnP-VM6, 0.15Ω
PnP-VM1, 0.3Ω
124*32.5*28mm
5-60W
Built-in 2500mAh Battery
PnP-VM5, 0.2Ω
PnP-VM1, 0.3Ω
116*33*28mm
Congratulations
on Meeting
The Ideal Mate
VMATE Pod is the next generation of flavorful, easy-to-use, low-cost starter device. Providing
the fullest resolution and flavor.
New Generation
Atomization Technology

0.7Ω MESH atomization increases the heating area by more than 3 times and can release
a rich flavor.

No Drop of Condensate
Escapes

3ml VMATE Pod has an independent and one-way condensate space, and is 75%
more leak-proof than other pods.

Small Size, Large Power

900mAh large capacity built-in battery, with Type-C 5V/1A fast charging, one charge,
enjoy two days.

VMATE Pod

Specification

Name: VMATE Pod
Material: Aluminum alloy
Pod Material: PCTG
Capacity: 3ml
Resistance: 0.7Ω
Output Power: 17W
Battery Capacity: 900mAh
Built-in Battery

Size

28.5*14.9 *95.5mm
Package List (DRAG S)
Standard Version
TPD Version
US Version
Package List (DRAG X)
Standard Version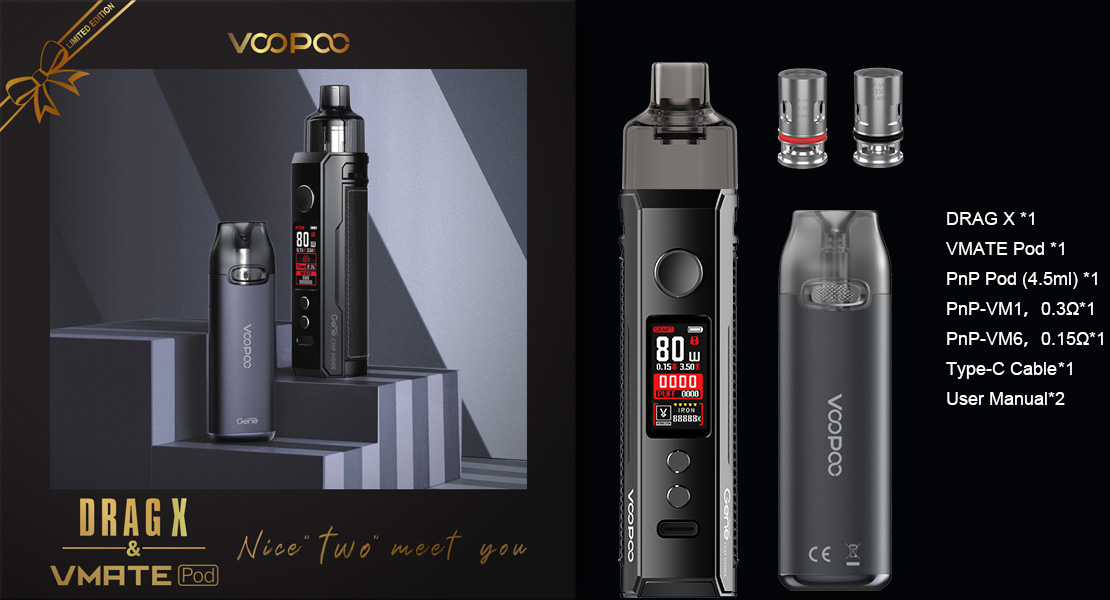 TPD Version
US Version